WARSAW CUISINE - TASTES FOR EVERYBODY
Warsaw has undergone a gastronomic revolution over past few years. At first many new places to eat has flourished. By saying 'places to eat' I mean not only classic restaurants but also whole eating complexes. Secondly Warsaw is a real multiculturale city, therefore you can find here many places with a typical world cuisine – e.g Polish and Varsavian (which is obvious), but also – among others – Greek, Italian,  Armenian, Indian, Jewish, Turkish, Georgian, Ukrainian and American cuisine. Thirdly, approach to food is changing, so you can find in Warsaw not only places with dishes made of local eco-friendly products, but also fine dining and molecular cuisine.
If you are interested in The Michelin Guide classification notice that there are 13 places in Warsaw highlighted by this guide.

You don't eat meat? No problem – Warsaw is one of the Polish leaders in vegan restaurants market. Are you a burger lover? You can find small restaurants or food-trucks with a very delicious burgers. You are looking for a low budget restaurant? Try milk bars – self-service places, a kind of relic of communism – an old-fashioned fast-foods.
Absolutely amazing is the fact that in many previously run down, and later renovated building complexes, spaces are provided specially for restaurants and food. That makes Warsaw cuisine not only field of taste but also an area of interesting artistic and architectural experiences. One of the best examples is recently revitalised Hala Koszyki, an old market hall built in art nouveau style, where you can find not only shops with food and different restaurants but also one of the longest bar in Warsaw. The other are: post-industrial Fabryka Norblina (with MOXO – a phenomenal fusion of two culinary worlds Peru and Japan), located in a former brewery Browary Warszawskie (where you can taste 19 kinds of craft beers), Elektrownia Powiśle with a great food hall or Centrum Praskie Koneser with Koneser Grill (a place for lovers of barbecue)
Varsavian herring (Śledzie po warszawsku)- starter
Rolled up herring fillets are smeared with mustard, sprinkled with finely chopped onion and pickled cucumber, drenched in vegetable oil. Served cold, often with vodka.
Foot jelly (Nóżki w galarecie)- starter
Quite funny name which is strictly connected with the dish: this is a tender meat from pork legs cooked together with vegetables for a very long time, which has set in a meat-jelly. Served cold with vodka.
Tripe in Warsaw style (Flaki po warszawsku)- soup
 It's beef tripe cooked in a beef broth with carrot, parsley root and onion. Seasoned with spices such as ginger, nutmeg and marjoram. Served with liver meatballs. Very warming dish.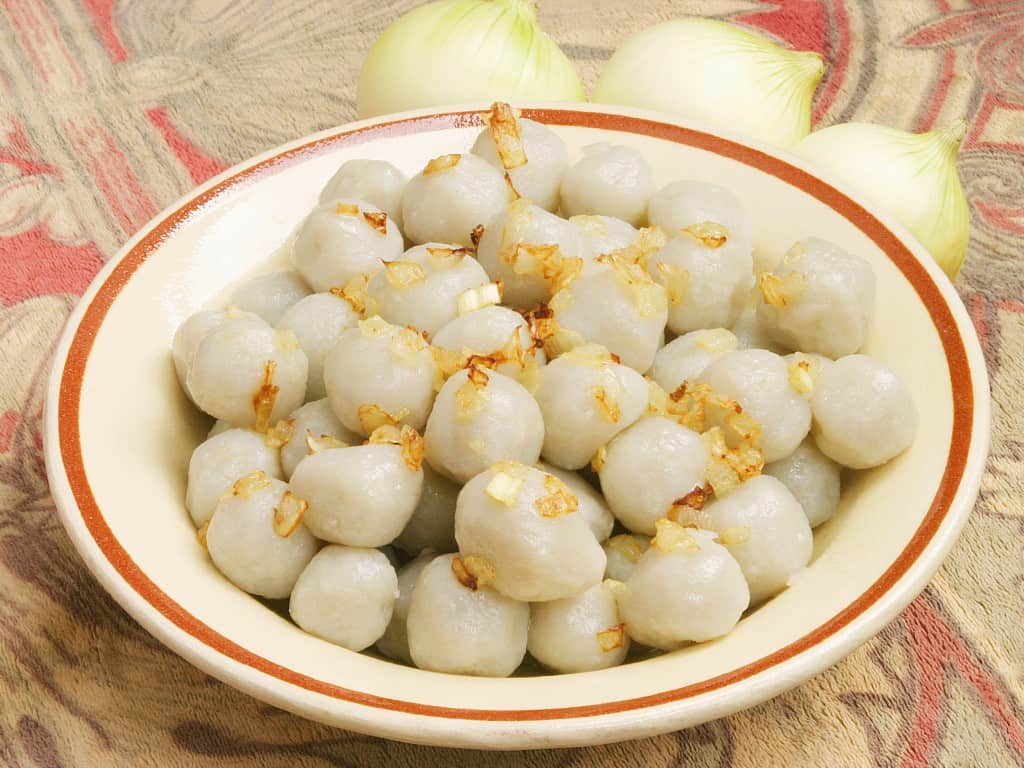 These are round balls made from grated raw potatoes, served with fried chopped onions and bacon crackling. Sometimes 'pyzy' are filled with minced meat, but these are not a traditional Warsaw dish.
Cocoa sponge cake layered with vanilla cream and decorated with whipped cream. It has been a famous Warsaw dessert since the 1950s. The origin of the name is not fully known, but one theory links it to the name of the express route built at that time in Warsaw, leading from west to east, which was named after the Polish words for the directions of the world, W-Z route (W-wschód/east and Z-zachód/west)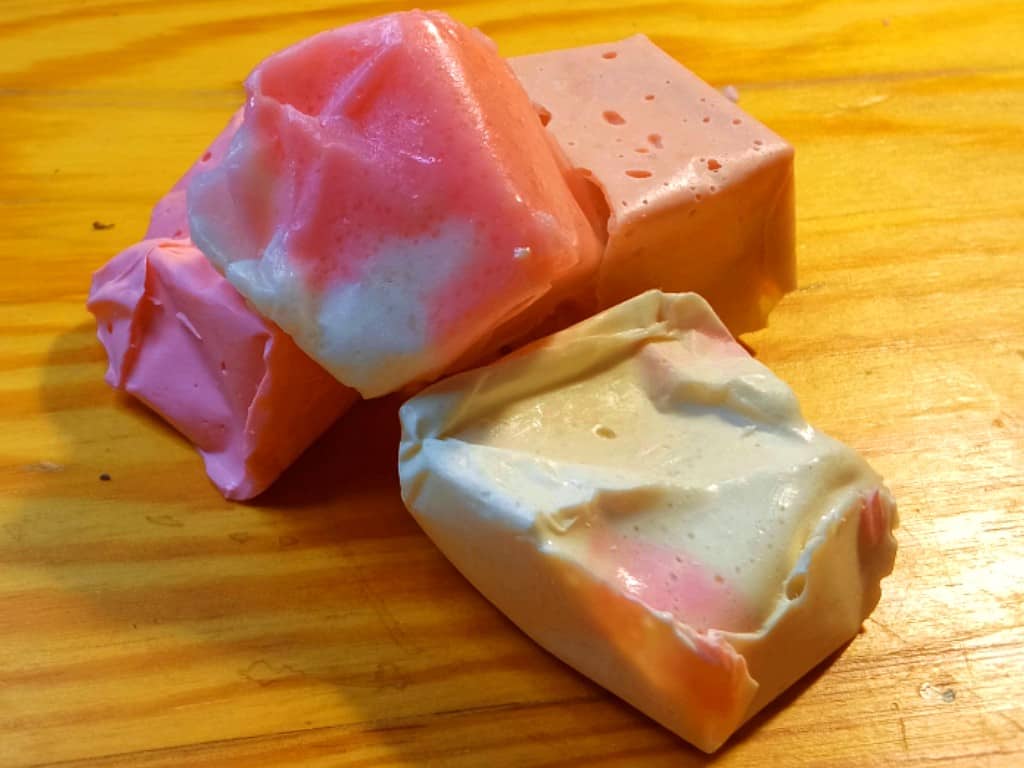 It is a hard and a very sweet candy, often made in home manufactures and sold mainly at Warsaw cemeteries. The traditional one is pink and white. It is made by boiling sugar with water, lemon juice, raspberry syrup, potato flour and steamed egg whites. The exact, traditional recipe is a closely guarded family tradition. It is difficult to translate the name literally – it's something like 'ladies crust' and it comes from the colour of the candy, which is like the face of a blushing young girl.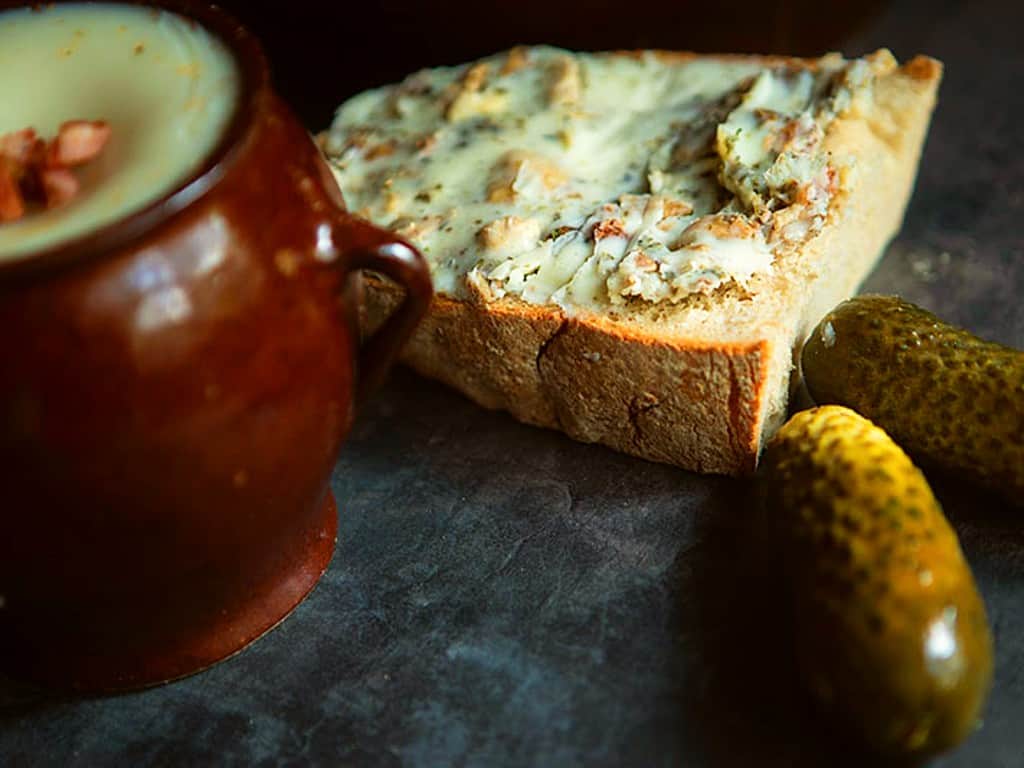 Bread with the lard (

Chleb ze smalcem) - starter
It is a typical snack, specially during drinking strong alcohol (eg vodka). The lard is smelted pork fat with greaves, salt, marjoram and onion. It is served with rye bread and pickled cucumbers.
Broth soup (Rosół) - soup
Don't call it a chicken soup! It is cooked of different type of meat (the best one is a mix of pork, beef and poultry) and carrot, parsley root, leek, onion, celery and spices. Served with string noodles and parsley.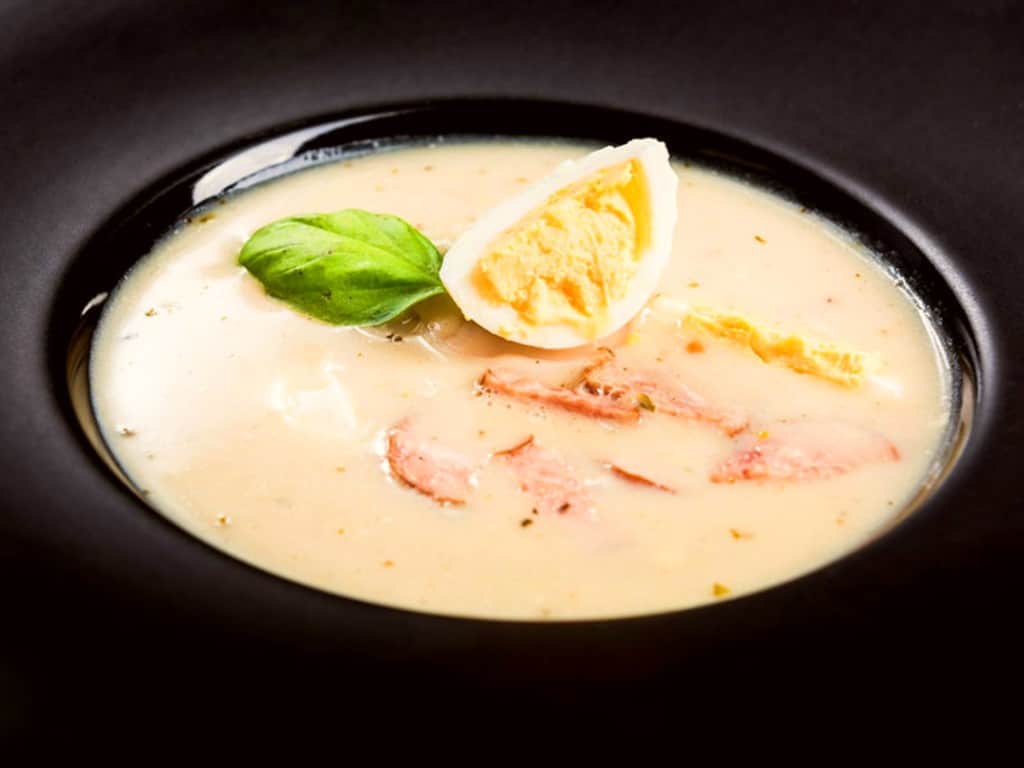 This soup is made of soured rye flower and meat. It is served with boiled eggs, sausage and horseradish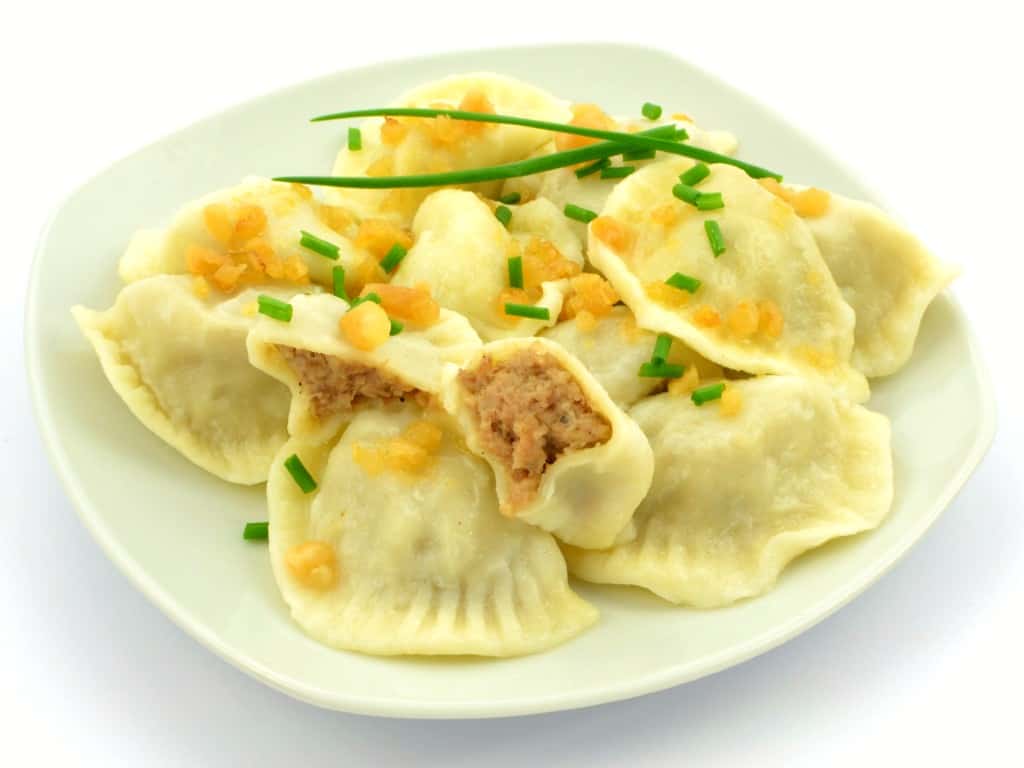 Dumplings (Pierogi) - main dish
They are very similar to Italian ravioli, but a bit bigger. They have a variety of types and tastes (from sweet through salty to spicy). 'Pierogi' are the piece of special kind of dough filled with different fillings such as: white cheese, potatoes with fried onions, minced meat, mushrooms with cabbage, spinach, other vegetables or fruit. Almost every cook has his own recipe.
This dish is made from boiled cabbage leaves wrapped around a filling of minced meat, chopped onions, and/or rice. It's boiled with tomato sauce and served with potatoes or bread.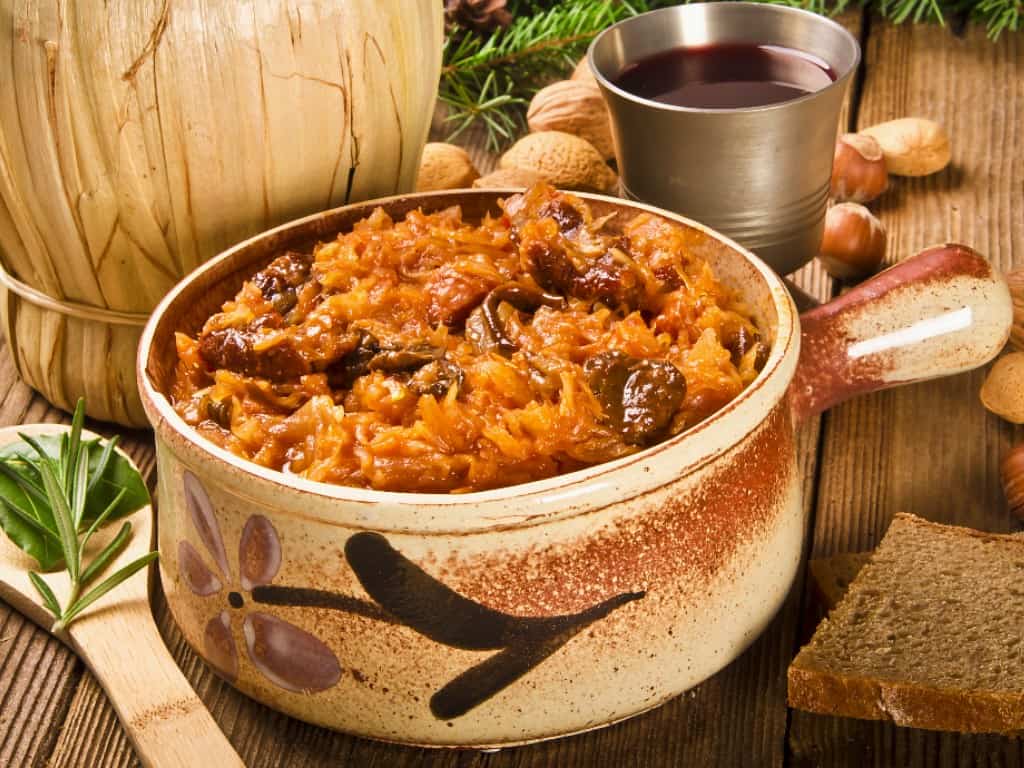 It's a stew made of sauerkraut, beef, Polish sausage, dried mushrooms, dried plums and onion. Some cooks put good red wine inside. 
Some people call them doughnuts (but without the hole). Deep-fried piece of yeast dough shaped into flattened spheres and filled with sweet filing (the best is a rose marmelade) . They are covered with powdered sugar or icing.
Sernik is a cheesecake made of cottage cheese and baked with raisins or/and other candied fruit.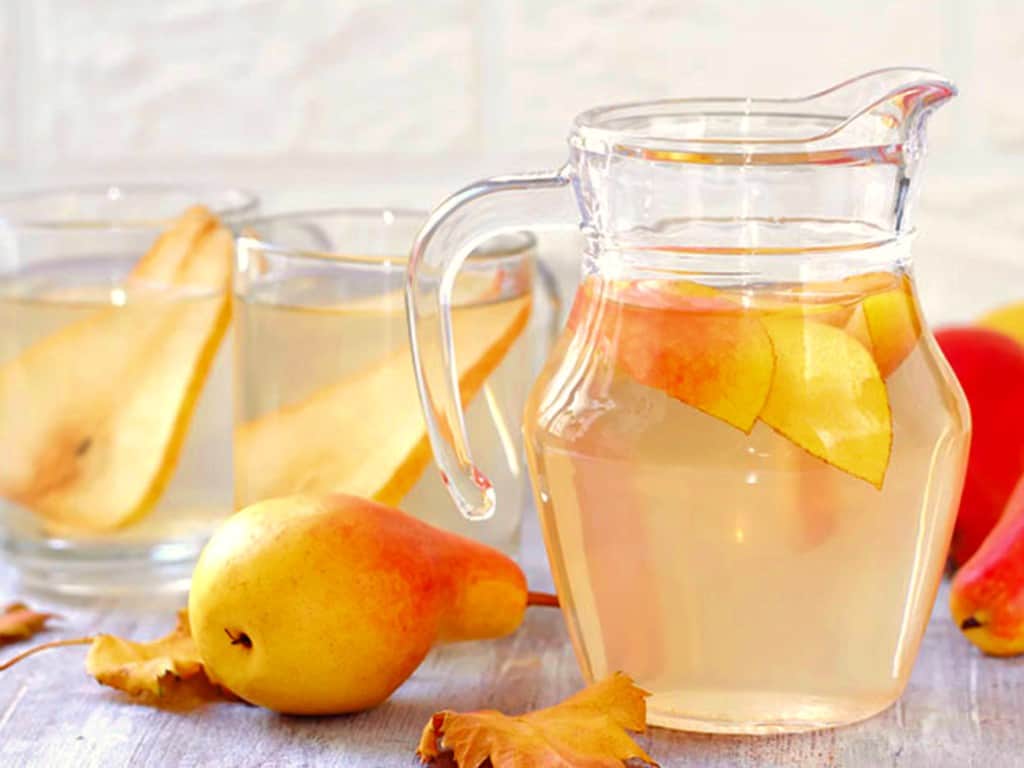 Compote (Kompot) - beverage
This non-alcoholic beverage is very common during family diners. It is prepared by cooking fruit with sugar in a large volume of water. The most common one is an apple drink. It is served hot or cold.