Frequency asked questions about Warsaw
Warsaw is the capital city of Poland and is located in Central Europe. The city itself lies in the middle of Poland on Vistula River – look at the map at Home
Look at the picture above – Warsaw coat of arms is a mermaid!
Officially it's a golden hair mermaid – half-woman, half-fish – with a golden sabre and a shield, presented in the red background with a king crown on the top of the field.
City flag is closely connected with the coat of arms colours – it has two horizontal stripes of equal width: top yellow and bottom red.
That is why you will find mermaids in a lot of places in the city – public vehicles, taxis, tickets, lanterns, even basket bins. And notice that our buses and trams are in yellow and red, too.
You can learn history of Poland knowing history of Warsaw
Warsaw is not the oldest Polish city – it's beginning dates back to the 13th century. This royal city with the castle, brick houses, churches and walls – was one of the most important locations in the 16th, 17th and 18th century in Republic of Poland. 
When Poland disappeared from European maps in the 19th century, Warsaw was under Russian rule, who introduced many changes glorifying tsar and Orthodox religion. 
After WWI Poland regained its independence and Warsaw became the capital city again. 
WWII was the most tragic period in city history – almost 800 000 inhabitants were murdered (among them Jews) and ¾ of the city was destroyed. 
Warsaw raised like a phoenix from ashes, but due to new communist system, unfortunately in a new layout which didn't preserve prewar beauty. 
Today, 30 years after collapse of communism Warsaw is a modern European metropolis.
By plane – we have two airports in Warsaw: Chopin/Okęcie Airport located in city borders (about 10 km from the city center) and Modlin Airport located 40 km from the city.
By train – there are three main railway stations in the city, which provide international and domestic train connections: Warsaw Central Station (in the center, well connected with public transportation), Warsaw East Station  and Warsaw West Station (located next to international bus station).
By bus – the main international and domestic bus station is in the western part of the city, near Warsaw West Railway Station and is called in Polish "Dworzec PKS Warszawa Zachodnia".
By car– the city is on the route of three European roads: route E77 (north-south), route E67 (Via Baltica) and route E30/motorway A2 (west-east).
The best option is to use public transportation – buses, trams and underground (metro, tube). Day lines and metro run from 5am to 11pm and night lines from 11pm to 5am. One ticket is valid for all means of public transport.
You may also take taxi or Uber.  If you do so make sure that the car has a yellow-red stripe with a number and Warsaw coat of arms (mermaid) on a side door and an illuminated taxi/Uber sign on the roof of the car.
Yes, you may rent a bike through bike stations operated by NEXTBIKE . This renting system is compatible in cities in Poland and in the whole world. Bikes are available 24/7 from 1st of March till 30th of November.
Palace of Culture and Science (city center, near Central Railway Station) – 1 Defilad Sq. entrance from E. Plater St; opens Mo-Sun 9am-6pm; mob. (+48) 503 033 720
Praga Koneser Centre; 2 Koneser Sq; opens Mo-Sun 9am-5pm
The Old Town – 1/3 Zamkowy Sq (oposite to the royal Castle); opens weekdays 9am-6pm, weekends 10am-6pm
Tourist Emergency Helpline (00 48) 22 278 77 77 and (00 48) 608 599 999. The hotline operates every day (excluding public holidays) between 8 a.m. and 6 p.m.
Special Warsaw City Contact Center – tel. 19115
Free wifi is available: in most hotels, large shopping centers, some restaurants (ask the waiter), some buses.
You can also use the free city hot spot network. Wireless Internet spots are marked with a blue or brown sign "HOT SPOT" (single session is set to 45 min).
You will be surprised how many different places you may see in Warsaw. 
Starting from great panoramic views, through many museums like Warsaw Uprising Museum, Polin (museum of History of Polish Jews) or Museum of Dollhouses, Games and Toys, to must-see places like the Old Town or Prague district. If you want to rest just visit our ZOO or one of many beautiful parks. 
You can find four special routes in Warsaw guided tours.
Warsaw is also a venue for varied music, cultural and sport regular events which gather lots of tourists. 
Warsaw is a modern European capital city, offering many accomodation options. The choice depends on your budget and expectations.
Hotel – we have a wide range of hotels with different facilities  from expensive (5*) to the economic ones (2-3*). In most of them there is a restaurant serving buffet breakfasts and some serve also dinners. There is always a reception desk with an English speaking staff in most of the hotels.
Apartment – if you like independence, this option could be the best for you – you have a flat on your own with kitchen amenities. For some apartments a reception is in a walk distance away, so it means that you take keys in a completely different place than your apartment. But location is the biggest advantage of apartments – you may find a really lovely places e.g. in the Old Town.
Hostels – one of the cheapest option. You may rent a bed in a common room or a room for your own. Rather simple equipment is balanced by a low price. Some hostels offer breakfasts at additional cost.
B&B – not so typical as in UK – I mean "a Mummy type" of ownership serving a hot breakfast with a huge smile. If you see this acronym, it is rather used by hostels and apartments.
Camping sites– there are few places for tents and campers in a good quality. You may find there a common bathroom with a toilet and  a connection to electricity for campers.
Warsaw provides quite a number of places with international and Polish cuisine. The city is famous for vege restaurants. 
You may know the country better eating typical Polish dishes: rye soup, pierogi, bigos or cheese cake. 
But being in Warsaw is a great opportunity to try a typical Warsaw cuisine – e.g. herring in oil served with vodka, tripe soup, pyzy, a cake called "wuzetka" or a candy called "panska skorka". If you want to know more check Warsaw is foodies friendly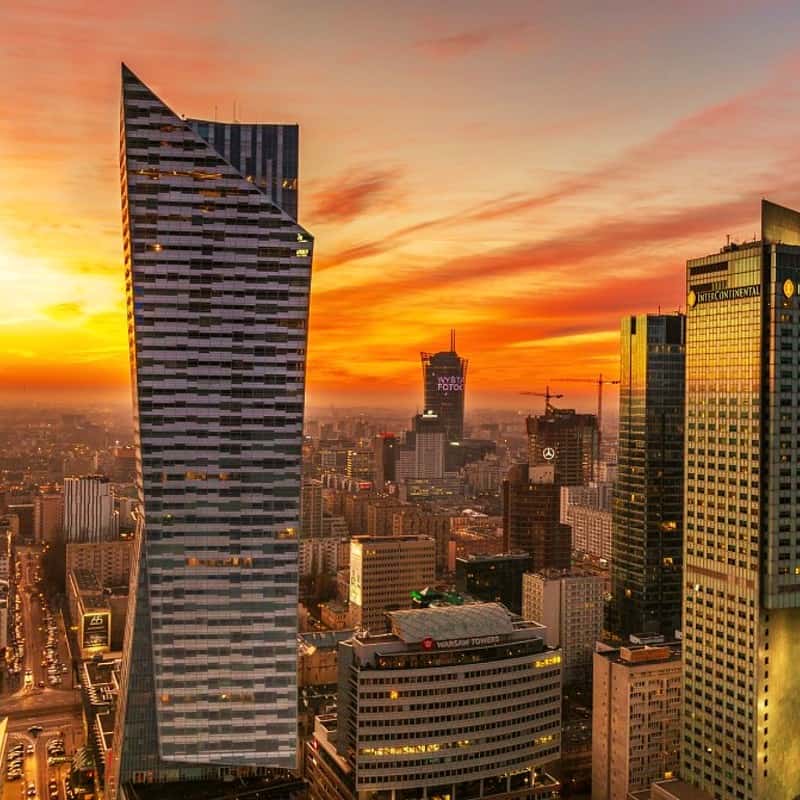 Do you have more questions about Warsaw? Haven't found answers to your questions? Feel free to CONTACT ME